Master of Arts in European Studies
Length of programme: 2 years (4 semesters)
Credits (ECTS): 120
Educational level: Second cycle
Degree: Master of Arts in European Studies
Main field of study: European studies
Language of instruction: English
Information about application and admission.
European expansion
European Studies is a growing interdisciplinary field associated with the possibilities and challenges offered by an expanding European Union. Processes such as international communication, migration, integration, enlargement, democracy and conflict require an understanding of culture, norms and values, history, languages, and the complex process of identity formation.
A unique humanist profile
The Master of Arts Programme in European Studies is a two-year multidisciplinary program taught in English. Its primary goal is to provide a focus on the humanities in the field of European studies, which is a perspective unique to Lund University. The programme specifically targets those who are interested in understanding Europe from a broader, cultural point of view, and who want to apply this perspective in careers related to European cultural politics, identity formation, and Europe-wide communication.
Analyzing identity, communication and values
MAPES has a strong scientific and theoretical orientation, providing students with theories, methods, and skills for the conceptualization and analysis of issues of particular interest in the context of contemporary European developments, such as the social and cultural construction of identities on multiple levels (local, regional, national, European), the growth of a transnational public sphere of communication, the cultural conflicts brought on by growing mobility through migration, travel, and business, and the normative interplay between values that include religious tolerance and freedom of speech.
Employability
MAPES proposes a practical approach to prepare students for future employment by introducing concepts and skills of project management, through a specially designed course, targeting the interaction with European institutions. Students will also have the opportunity to go on internships and thereby gain contacts that can lead to future employment.
Programme structure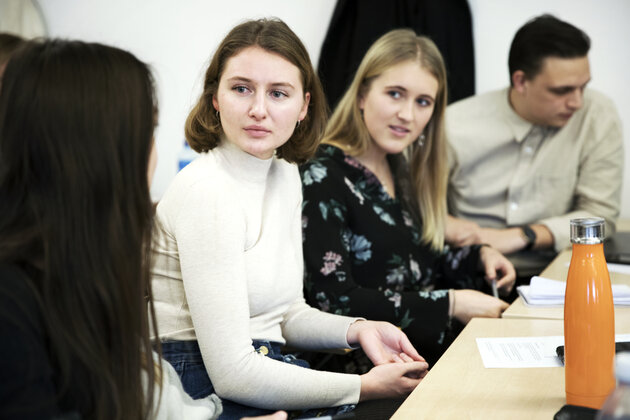 The cultural history of Europe
The program begins by presenting Europe in its historical, cultural, and normative aspects, such as the impact of Christianity, the development of the idea of the nation state, the intellectual currents of enlightenment, humanism, and individualism, the importance of civic rights, and the values of freedom of speech, tolerance, and equality.
European politics and institutions
During the second semester the students will get a deeper understanding of the political institutions and processes at the foundation of the European project and their current function. After a course on the various theories and methods that underpin a humanities approach to European studies, the students focus on practical skills in a project management course. During the third semester there is the possibility to further deepen these practical skills by doing an internship.
The master's thesis
The accumulated knowledge and experience of the students will be reflected in the final stage of the program, the writing of a master's thesis.
Future careers
European Studies will prepare you for a wide range of careers, not only in Sweden, but also Europe and beyond. You will leave the programme with excellent skills in analytical thinking, project management and presentation, in addition to your in-depth knowledge of European countries and EU institutions. MAPES graduates have found work in European institutions (local, regional and supranational), in private companies, as well as in think-tanks. Possible career opportunities include project management in institutions dealing with European culture and communication, analysis and consultancy in publishing, translation and media businesses directed to a European audience and dealing with cross-cultural communication. Some of our graduates choose an academic career path by pursuing doctoral studies.
MAPES on Facebook