SO-CLOSE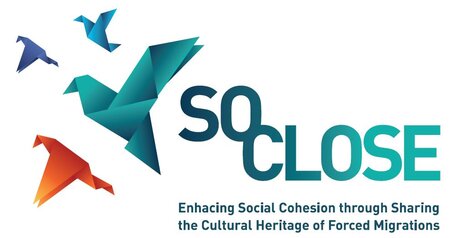 Enhancing Social Cohesion through Sharing the Cultural Heritage of Forced Migrations
SO-CLOSE is a three-year project created to contribute to social cohesion and fight refugee marginalization or exclusion by facilitating the encounters between similar life stories, through the mediation of innovative digital and artistic tools.
Based on theories of cultural heritage-making, SO-CLOSE will improve social cohesion and promote mutual understanding between refugees and their local communities.
Lund University leads Work Package 4 (WP4): Implementation & Validation
The main goal of WP4 is to implement and validate the digital tools resulting from the work in previous WP's in four distinct locations:
The specific objectives are:
To implement and test the digital toolboxes in several locations.
To document the process of local adaptation, local content co-creation and testing
To generate co-created content that fills the digital tool "shells" designed in WP3
To address the on-site problems that might occur and include them in a troubleshooting section of the how-to manual
To evaluate the quality of the tools and the process
Learn more about SO-CLOSE in this introductory video. Various subtitles are available in the settings.
Curating digital heritage of (forced) migration, 14th December, 2022, at Kulturen i Lund (online participation possible)
Dec 14th, 2022
Curating digital heritage of (forced) migration
9am-5pm
Sign up here by latest December 1st, 2022
Online Participation possible.
SO-CLOSE is showcasing its open access digital tools for storytelling and sharing memories of forced migration. Join us and experience the newly developed StoryMap, Virtual Exhibition, and WebDoc, gain insights into the co-creational approach to migration narratives and get inspired to create new exhibitions. We invite cultural institutions such as museums, NGOs, schools, libraries, or archives to experience the digital tools, learn how to implement them at their own institutions and to exchange experiences of co-creating narratives of (forced) migration. For more details, have a look at the program, or contact Lili Nottrott (lili.nottrott@eu.lu.se)

This project has received funding from the European Union's Horizon 2020 research and innovation programme under grant agreement No 870939.
Duration: January 1, 2020 - December 31, 2022
EU Contribution: € 3 040 282,97