Tidigare studenter berättar
Louise Stenfors Virenfeldt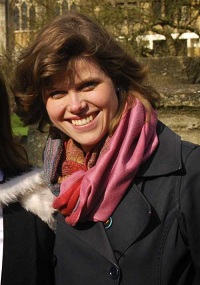 "
As-sha'ab yuriid isqaat an-nizaam! Folket kräver regimens avgång!
Att vanliga människor i några av världens mest repressiva stater reste sig mot makten under detta slagord utmanade inte bara de korrupta ledarna som länge förtryckt dem. Det utmanade även omvärldens syn på Mellanöstern. Internet och tv fullkomligt exploderade med berättelser på arabiska om vad vanliga människor, eller så kallade citizen journalists, tyckte, kände, hade sett och varit med om. Att få ta del av denna frigörelse – timme för timme, på originalspråk – var en otrolig upplevelse för mig, och säkert för många andra arabister.
Första bekantskapen med arabiskan stiftade jag långt innan revolutionsåret 2011, nämligen på Försvarets tolkskola i Uppsala. Efter att ha gjort värnplikten som tolk och förhörsledare i arabiska sökte jag mig 2007 till Språk- och litteraturcentrum (SoL) i Lund för att befästa mina arabiskkunskaper. Inom ramen för Programmet för arabiska studier (PAS) kunde jag förkovra mig i media-arabiska, arabisk litteratur, Mellanösterns historia och politik, och mycket mer. Två områden som särskilt intresserade mig var demokratiseringsteori och politisk sociologi, och jag fick god användning av mina kunskaper inom dessa ämnen när jag sommaren 2008 praktiserade vid Center for Strategic Studies (CSS) i Amman, Jordanien.
Under min praktiktjänstgöring vid CSS forskade jag i sociala mediers betydelse i Mellanöstern och Iran, och jag hade stor nytta av de PAS-kurser jag läst i media-arabiska föregående termin. Under denna period skrev jag även min kandidatuppsats, vilken jämförde Al-Jazeeras arabisk- och engelskspråkiga rapportering om Gazakriget 2008. Al-Jazeera English var på den tiden en nykomling i Mellanösterns medielandskap, och jag är otroligt tacksam för all handledning och stöd jag fick från PAS, som hjälpte mig utforska detta tidigare ouppmärksammade område.
Under våren 2011 hade jag förmånen att som Erasmus Mundus JOSYLEEN-stipendiat studera vid American University of Beirut. Under fem månader i "Mellanösterns Paris" fick jag lära mig libanesisk dialekt (eller rättare sagt blandningen av arabiska, franska och engelska som kännetecknar den), och fördjupa mig i fred- och konfliktforskning samt politisk sociologi.
Jag hade även möjlighet att samarbeta med ett lokalt medieforum, Hibr ("bläck"), kring en studie av hur marginaliserade grupper använder sociala medier såsom Facebook, Twitter och bloggar. Studien fokuserade på palestinska flyktingar i Libanon, och jag blev mycket berörd av dessa ungdomars framtidstro och målmedvetenhet. Jag följer än idag deras ihärdiga bloggande, bildflöden, och Facebook-aktivism med stor beundran.
Med utbytesterminen i Libanon satte jag punkt för mina arabiskstudier vid Lunds universitet, och bor sedan en tid i Sudan, ett mångetniskt och politiskt komplext gränsland till Arabvärlden. Jag arbetar på Sveriges ambassad i Khartoum med konsulära och migrationsfrågor, och har dagligen nytta av den erfarenhet och språkkunskaper som studierna i arabiska gett mig. Att tala arabiska i vardagssammanhang här bygger tillit och förståelse, och jag är övertygad om att min uppfattning av Sudan varit en helt annan om jag inte talat språket.
Med dess ständigt skiftande politiska landskap, stora ekonomiska potential och rika kultur kommer Mellanöstern sannolikt förbi ett område av stort intresse för forskare, yrkesmänniskor och policyskapare. Inom Utrikesdepartementet är efterfrågan stor för personal med arabiskkunskaper, liksom på den svenska arbetsmarknaden allmänt. Programmet för arabiska studier erbjuder en solid bas för den som vill ge sig in på detta område, på en språkresa som varar livet ut.
As-sha'ab yuriid isqaat an-nizaam! The people want to overthrow the regime!

With the rest of the world, I waited in suspense in the spring of 2011 as protestors from Northern Africa to the Persian Gulf rallied under this slogan, demanding change. As a student of Middle Eastern affairs and the Arabic language, I was thrilled not only by the magnitude of the events taking place, but also by the sense of urgency and connectedness that came from understanding what the actors of the revolutions were saying, in their own words, in their own language. Able to access virtually unlimited Arabic sources directly on Facebook, Twitter, Youtube and traditional media like Al-Jazeera, I have been grateful to be able to read, understand and speak Arabic on countless occasions.
My first encounter with Arabic took place years before the Arab Spring, at the Swedish Armed Forces Institute of Languages. After serving as a conscript and studying Arabic translation and interpretation for 15 months, I applied to the Center for Languages and Literature (SoL) in Lund in 2007 in order to improve and diversify my study of Arabic. Whereas my previous studies had focused on Modern Standard Arabic and Egyptian dialect, the Program for Arabic Studies (PAS) enabled me to cover topics such as Media Arabic, Arabic literature, regional history, politics and much more.
Moreover, the program inspired my interest in democratization theory and political sociology, which would be essential in my work as an intern at the Center for Strategic Studies (CSS) in Amman, Jordan in 2008. As part of my work at CSS, I wrote a comparative study on the use of social media in the Middle East and Iran, the basis of which was the modules in Media Arabic that I'd taken at SoL the previous year. Shortly after, I completed my bachelor's thesis, a comparative content analysis of Al-Jazeera's Arabic- and English-language coverage of the 2008 Gaza War. At the time, broadcasting by Al Jazeera English was still in its infancy, and I was very grateful for the patient guidance and support of my PAS supervisor as I explored this rather uncharted territory.
In 2011, during the finishing stages of my studies at SoL, I had the great privilege of being awarded an Erasmus Mundus JOSYLEEN scholarship. This entailed one semester of fully funded studies at the American University of Beirut, in the charming and diverse "Paris of the Middle East". I was able to delve deep into the dynamics of conflict resolution, taught by leading practitioners in the field, and to study the political sociology of the Middle East in detail. In collaboration with a local alternative media outlet, Hibr ("ink"), I conducted as study on marginalized groups' use of social media, focusing particularly on Palestinian refugees in Lebanon. In the context of the Arab Spring, the optimism and determination of these Palestinian social media activists was truly inspiring, and greatly influenced my belief in the power of civil society to effect radical political and social change.
Upon the completion of my studies at Lund University, I moved from one politically and culturally kaleidoscopic, nominally Arab, country to another: Sudan. I currently work at the Embassy of Sweden in Khartoum with migration and consular issues. In my work and travels in this country, far from the snow-capped peaks and emerald coasts of Lebanon, I am amazed to nevertheless address my colleagues, friends and passers-by in the same language. I think this is one of the chief benefits – and challenges – of studying Arabic: spoken by 230 million people worldwide, it certainly leaves you scope to wander!
Given the rapid developments of the Arab Spring and the ever-shifting geo-politics of the region, I am certain that the Middle East will continue to be an area of great interest to students, professionals and policy-makers alike. The Program of Arabic Studies at Lund University provides an excellent base for venturing into this field, and skills that will prove useful for many years to come.
"
Louise Stenfors Virenfeldt

Läs fler berättelser
Print Feb. 22, 2018 of http://www.sol.lu.se/en/education/alumni/louisestenforsvirenfeldt/